Command: Motivation
Paste Command
Open Command
Macro Command
Macro Command (GOF Diagram)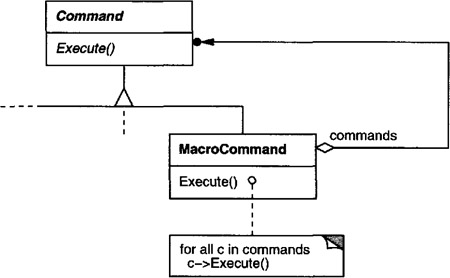 Command: Applicability
Use the command pattern when you want to:
Parameterize objects by an action to perform, as Menultem objects did above.
Commands are an object-oriented replacement for callbacks.
Specify, queue, and execute requests at different times
Command: Applicability
Support undo. execute() stores state for reversal, unexecute() reverses the effects of a previous execute(). Executed commands are stored in a history list, with unlimited undo and redo
Support logging changes to reapply in case of a system crash
Structure a system around high-level operations built on primitives operations, and support transactions
Command: Structure
Command: Participants
Command - Declares an interface for executing an operation.
ConcreteCommand (e.g., PasteCommand, OpenCommand)

Defines a binding between a Receiver object and an action
Implements execute() by invoking the corresponding operation(s) on Receiver
Command: Participants
Client (e.g., Application) Creates a ConcreteCommand object and sets its receiver
Invoker (e.g., Menultem) Asks the command to carry out the request
Receiver (e.g., Document, Application) Knows how to perform the operations associated with carrying out a request
Command: Collaborations
The client creates a ConcreteCommand object and specifies its receiver
An Invoker object stores the ConcreteCommand object.
The invoker issues a request by calling execute() on the command. When commands are undoable, ConcreteCommand stores state for undoing the command before invoking Execute.
The ConcreteCommand object invokes operations on its receiver to carry out the request.
Command: Consequences
Command decouples the object that invokes the operation from the one that knows how to perform it
Commands are first-class objects and can be manipulated and extended like any other object.
Multiple commands can be assembled into a composite command (e.g., MacroCommand), and are instances of the Composite pattern
Easy to add new Commands, because you don't have to change existing classes.
Implementation
How intelligent should a command be?
Supporting undo and redo
Avoiding error accumulation in the undo
Using C++ templates to avoid creating Command subclasses
Composite

Used to implement MacroCommands

Memento

Keep state the command requires for an undo

Prototype

Command is copied before being placed on a history list acts as a Prototype